Written by John Rabon
England possesses some of the world's most beautiful castles. From the Normans to the Tudors, their builders wanted to use these fortresses as a place of defence, residence, displays of wealth, and shows of power. There are well over 1,500 castles in England, all in various states from ruins to perfectly intact. Of course it's hard to select only nine from so many, so let us know some of your favourites in the comments.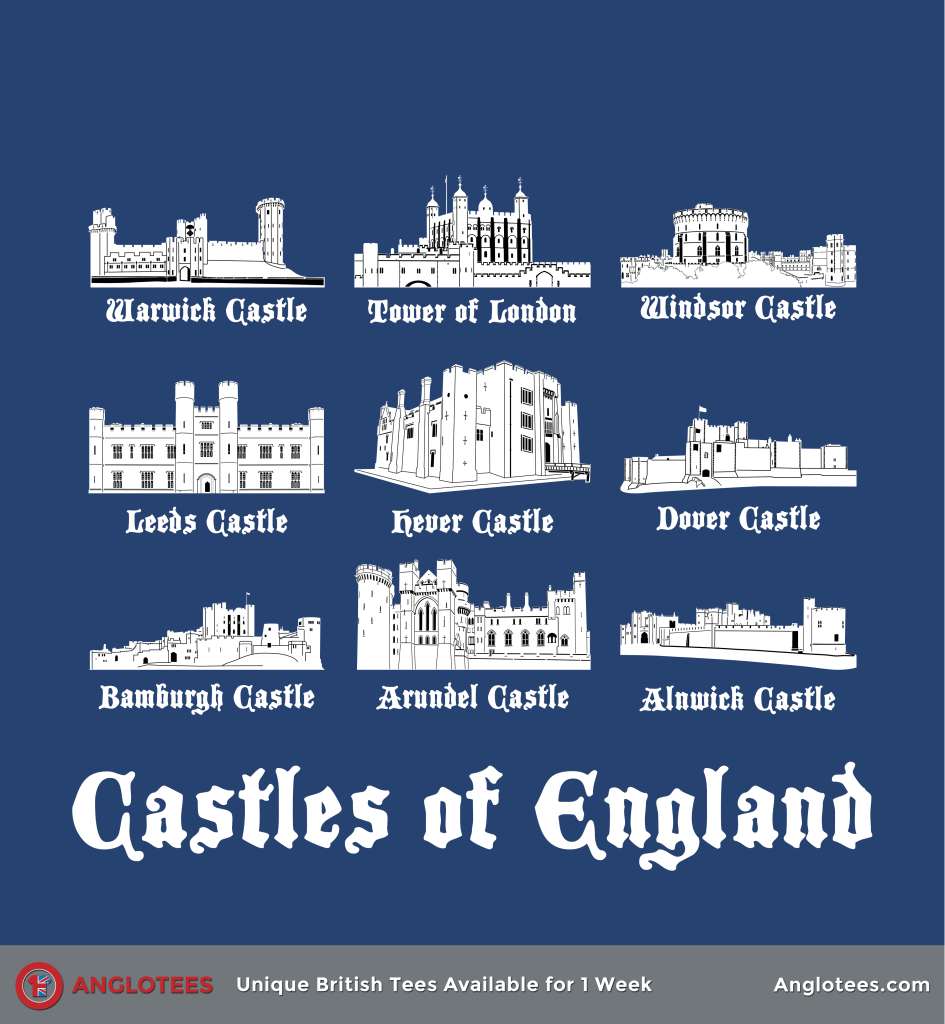 There's still 72 hours left to pick up this week's exclusive Anglotees Design – Castles of England featuring these nine beautiful castles. Available on Royal Blue garments in men's, women's, v-neck, long sleeve, hoodie and sweatshirt starting at $16.99 and shipping worldwide from the USA. 
9. Arundel Castle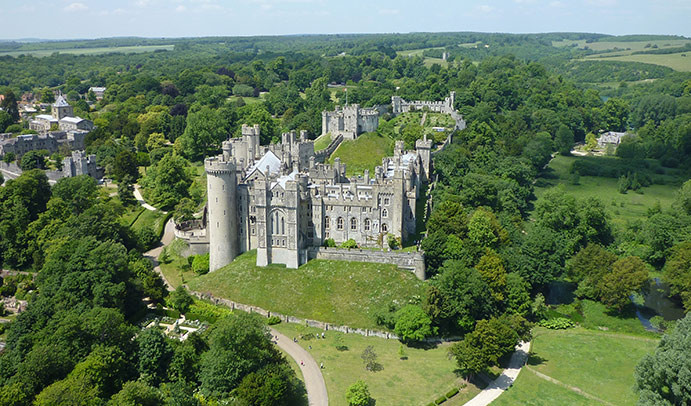 Built as a motte-and-double-bailey castle by Roger de Montgomery, in 1068, the land on which the castle sits was a gift from King William I for looking after Normandy while William was fighting in England. Following Roger's death, the castle reverted to the crown, then was gifted to the d'Aubigny family and later to Thomas Howard, the Fourth Duke of Norfolk. This excellent example of Medieval architecture has been in the Howard family ever since and is the seat of the Duke of Norfolk. Today, the castle is also a major Norfolk tourist attraction, and regularly puts on reenactments of various eras in British history from the Romans and Medieval periods. Arundel also puts on a number of Shakespearean performances presented as they would have been during Elizabethan times. Most parts of the castle and the grounds are open from 10:00 AM to 5:00 PM daily, though the Castle Rooms don't open until 12:00 PM and the Keep closes at 4:30 PM. Tickets come in several packages and the Gold PLUS level costs £18.00 for adults and £9.00 for children.
8. Bamburgh Castle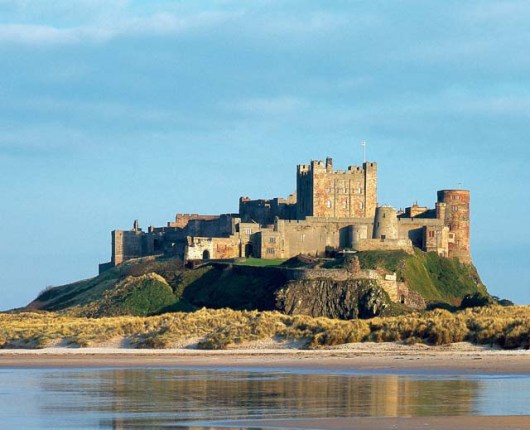 Long before the castle was built, the area surrounding Bamburgh Castle was fort for the Britons with foundations going to the 5th Century. Like Arundel and our next entry, Alnwick, Bamburgh is amongst the largest inhabited castles in England and is the home of the Armstrong family, which has owned it since William Armstrong, First Baron Armstrong, purchased it in the 19th Century. Its ancient history makes it a major location for archaeological digs and many artefacts have been discovered from the Britons and Anglo-Saxons. The castle is open to the public and puts on a number of events throughout the year, including festivals and concerts. Bamburgh is open daily until November 1 from 10:00 AM to 5:00 PM. Tickets are £12.25 for adults and £26.75 for families.
7. Alnwick Castle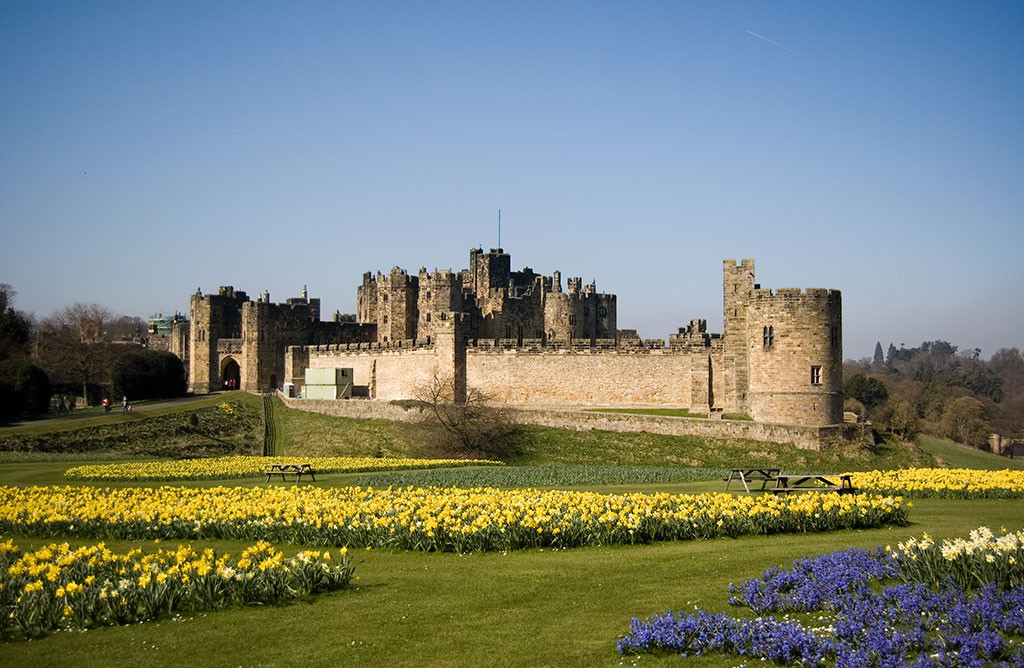 One of the few castles in Britain still in the ownership of a great family, the grounds of Alnwick have had a castle on them for almost 1,000 years and the castle has been in ownership of the Percy family since the 14th Century and serves as the seat of the Duke of Northumberland. Today, the economics of maintaining a castle has seen it transformed into a multi-use facility, not only providing a home for the Percys, but also serving as a branch campus for the University of St. Cloud Minnesota, a public tourist attraction, and a filming location. Your children will certainly want to visit for the castle's connection to the first two Harry Potter films and the castle has several Potter themed events. What's more, you can visit the adjacent Alnwick Gardens, begun by the current Duchess of Northumberland, Jane Percy. Tickets are available for the castle, gardens, or both and the castle is open from March until November from 10:30 AM until 5:00 P.M.
6. Hever Castle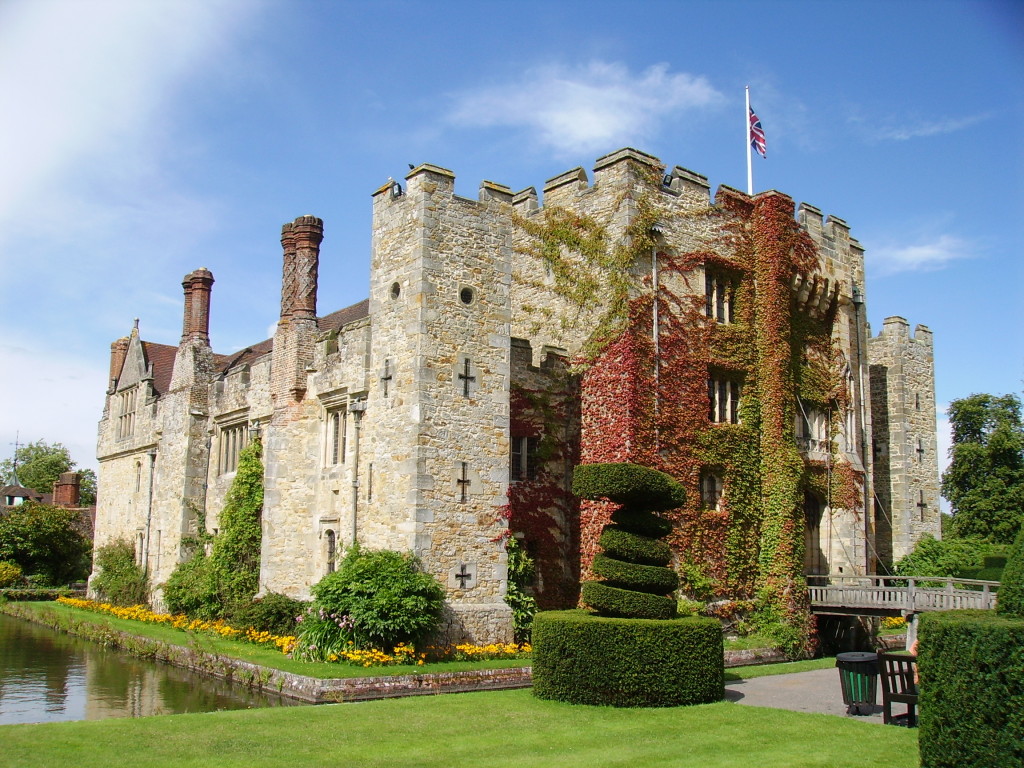 Hever Castle was built as a country house during the 13th Century and is most famous as the home of the Boleyn family, whose most famous member, Anne Boleyn, was the second wife of King Henry VIII (which didn't go well for her, but at least produced the future Queen Elizabeth I). As such, the castle is rich in Tudor history, and though owned by Broadland Properties Limited since 1983, this tourist destination takes full advantage of that history through its Tudor architecture, gardens, and its very own yew maze. Another Tudor tradition in which the castle indulges are jousting tournaments, held daily for the visitors. Hever Castle also puts on a number of other events, from "Knights and Princesses School" to athletic events, and even a homegrown food and crafts fair. The gardens open at 10:00 AM daily, while the castle opens at 12:00 PM and depending on the season, they both close anywhere from 4:30 to 5:30 PM. Tickets are roughly £15.00 for adults and £8.45 for children.
5. Warwick Castle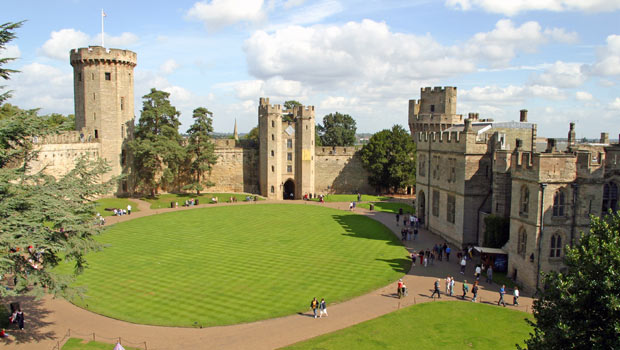 Warwick Castle on the River Avon is one of the original castles built by William the Conqueror in 1068 to maintain his hold over England. It's possibly one of the most built-upon of the original Norman castles as the Earls of Warwick added more towers and walls over the centuries. Its last private owners were the Greville family, who took possession in 1604 and sold it to a private leisure company in 1978. The Tussauds Group (owners of the chain of wax museums) transformed it into a tourist attraction that not only features museums dedicated to the castle's history, but also a performance-style dungeon attraction, trebuchet display, ghost tour, and many other exciting events. Adult tickets online are £18.45 and children cost £16.20. Tickets at the gate are a bit pricier, so always purchase online or check for deals. The castle is open daily from 10:00 AM to 6:00 PM.
4. Leeds Castle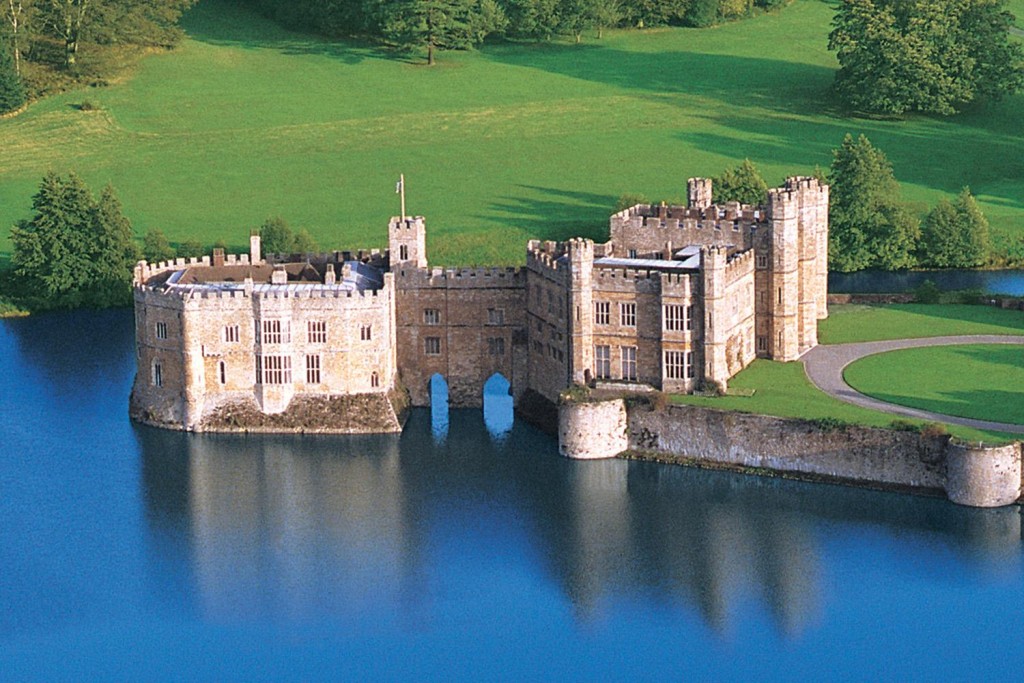 Billing itself as "The Loveliest Castle in the World", a castle has been on the site in Kent since 1119. Since that time, Leeds Castle has been expanded and redeveloped multiple times, first by King Edward I when he took possession in 1278, enhancing its defences and residence, as it became Edward's favourite place to live. It remained a royal castle for years until it was granted to Sir Anthony St. Leger, then a string of others until Olive, Lady Baille, created the Leeds Castle Charitable Trust on her death, which opened the castle to the public in 1976. Leeds Castle has been the site of several peace talks, including those facilitated by the United States between Egypt and Israel as well as the Northern Ireland peace talks led by Tony Blair. Leeds Castle hosts several festivals during the year, including food festival, flower festival, Christmas Market, and a Fireworks Spectacular. The castle also has more attractions than I can list here, but a quick look at its website will reveal something for everyone. Leeds Castle is open from 10:30 AM to 5:00 or 6:00 PM, depending on the season, and tickets are £24.00 and £16.00 for children.
3. Tower of London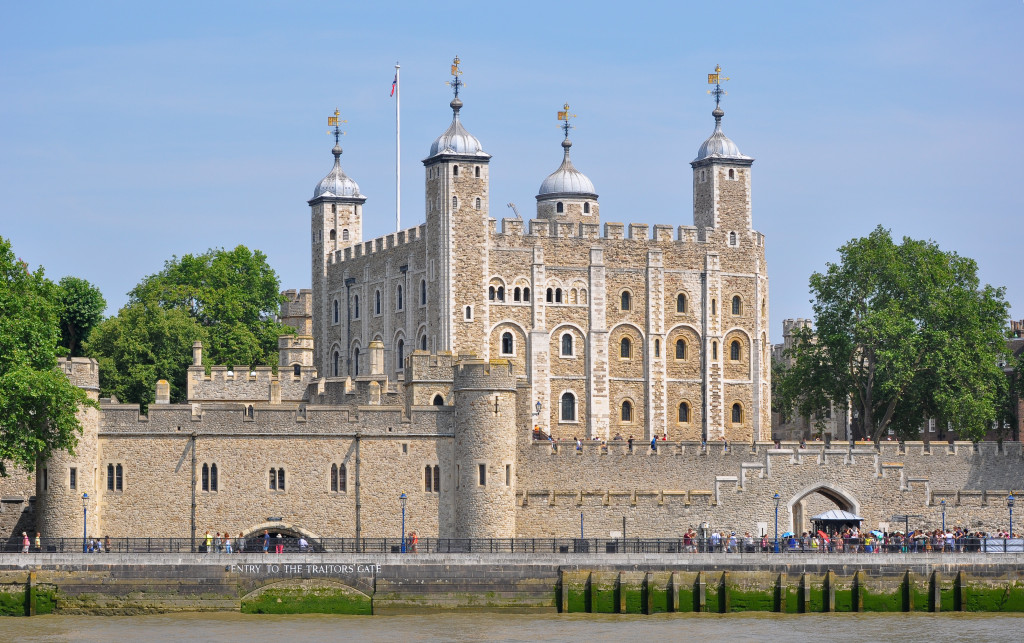 The first of King William I's castles built to consolidate his power after the Battle of Hastings, the White Tower was finished in 1078 and meant to literally tower over London as an expression of who was in charge now. Since its completion, it has always been a royal palace, though not always used as a residence. For much of the Tower's history, it was a well-known prison that housed many famous and infamous prisoners from Mary, Queen of Scots to King Edward V and Richard, Duke of York, also known as the "Princes in the Tower". As such, besides its famous ravens, the Tower is allegedly home to a number of ghosts as well. Additionally, it has a number of exhibits that are worth seeing, including the Crown Jewels, which have been held at the Tower of London since 1303. The Tower is open from 9:00 AM to 5:30 PM Tuesday through Saturday and 10:00 AM to 5:30 PM on Sunday and Monday. There isn't much of a difference between online and gate prices, hovering at around £24 for adults and £11 for children.
2. Dover Castle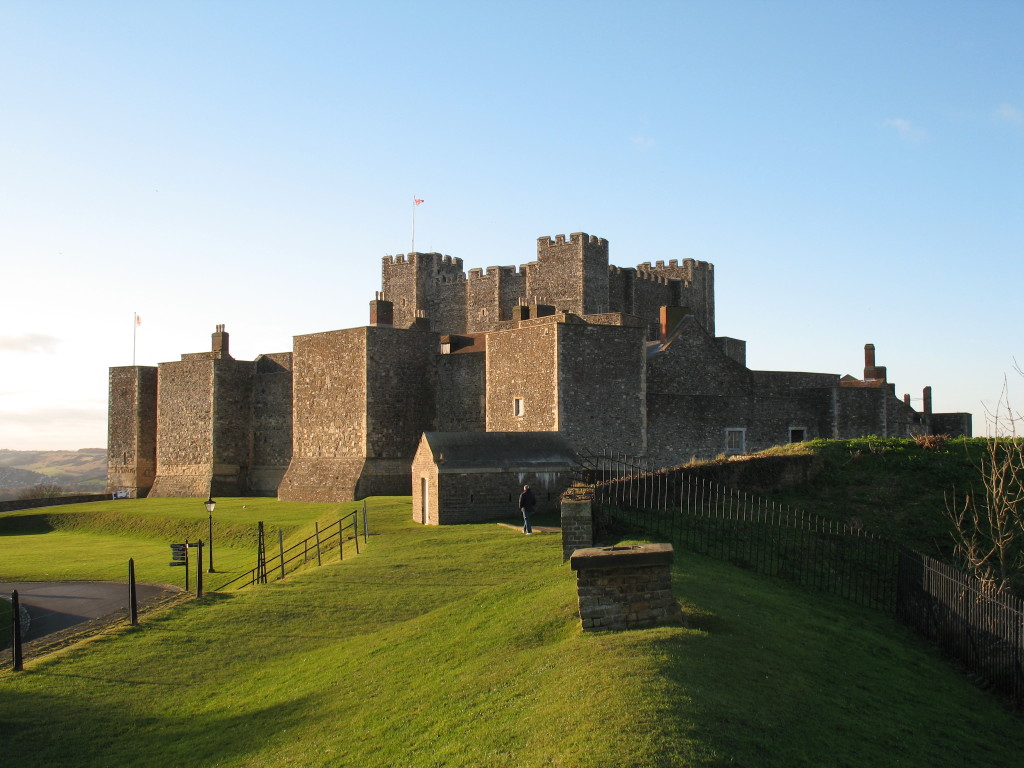 Above the White Cliffs, Dover Castle has been a major defensive position for England since the Roman days, but the castle in its current shape was not built until the reign of Henry II. Its role as a protector of England has meant that, in addition to its walls, it has a great military tradition and any number of secrets, including many underground tunnels. The castle has served as a major base of operations in actions ranging from the Napoleonic Wars to World War II. It was even meant to be a base of operations during the Cold War in case nuclear war ever broke out and the government in London was destroyed. Now owned and managed by English Heritage, there are any number of great exhibits dedicated to the castle's history. The castle is open every day from 9:30 AM to 6:00 PM and tickets are free for Heritage members, £18 for adults, and £10.80 for children.
1. Windsor Castle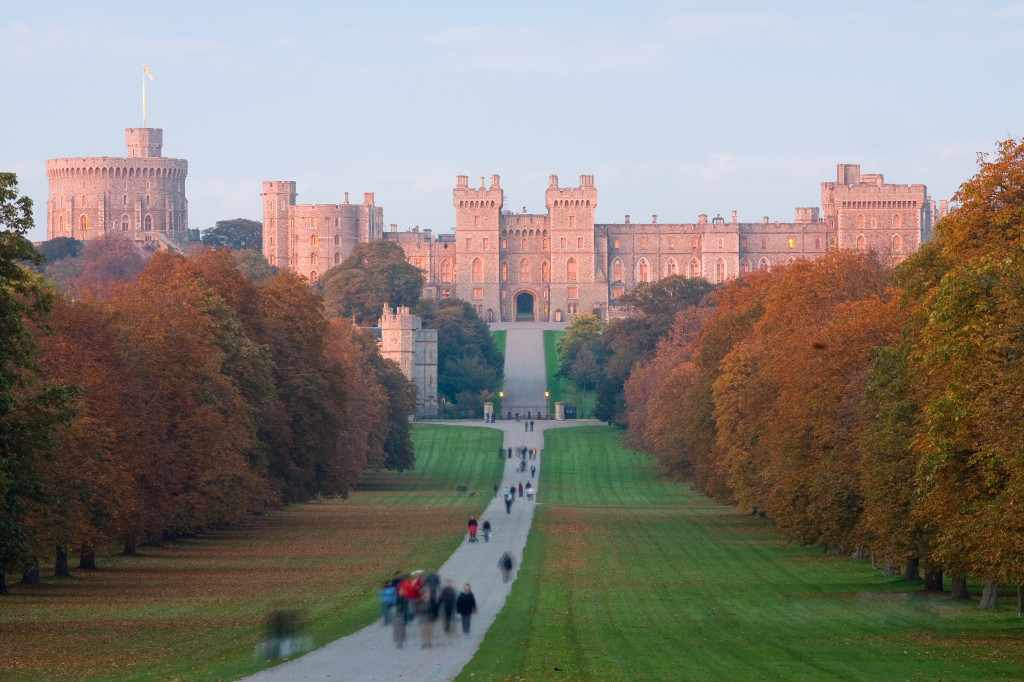 The largest inhabited castle in the world, Windsor Castle's keep was built in the 11th Century and later expanded into its Upper and Lower Wards. The oldest surviving buildings date to the 12th Century and the reign of Henry II. Meant to be yet another castle to help the Normans hold power, it started seeing more use as a major location for the royal court during the Tudor era. Today, the Castle is a major tourist destination as well as a residence, and tours include the beautiful St. George's Chapel and the elegant State Rooms. While open daily from 9:45 AM to 4:15 or 5:15 PM depending on the time of year, since the castle is still a major residence and sees use by the royal family, there are times when it is closed to the public, so it's best to check the Royal Collection Trust's website. The price of an adult ticket is £19.20, while children under 17 are £17.50 and children under 5 are free.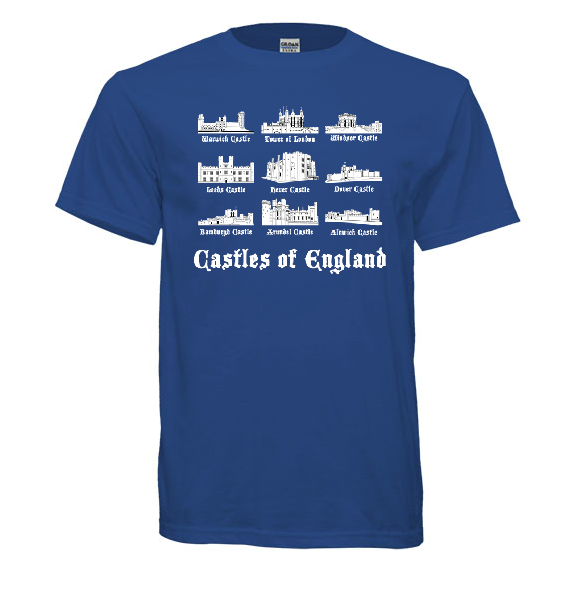 There's still 72 hours left to pick up this week's exclusive Anglotees Design – Castles of England featuring these nine beautiful castles. Available on Royal Blue garments in men's, women's, v-neck, long sleeve, hoodie and sweatshirt starting at $16.99 and shipping worldwide from the USA.