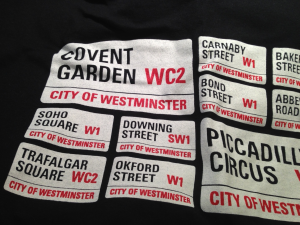 This message is for people who bought our recent shirt – Streets of London. 
It has come to our attention that the shirts have one of the streets spelled incorrectly. Oxford Street has been spelled 'Okford Street.' We've investigated why this happened and it was due to an error on the printer's part (the file we sent them says 'Oxford Street'). We only found out after everyone started to receive their shirts.
As we stand behind our products, this is an unacceptable mistake. The printer has agreed to reprint all of the t-shirts and we will be sending everyone who ordered Streets of London a new version of the shirt with the correct spelling.
There is nothing you need to do on your part, we will send the shirts to the address we have on file. You may keep the mis-spelled shirt or you may send it back to us, it's your choice. You can expect your new shirt in 7-10 business days.
We're really sorry for this mistake and hope that you will continue to order our t-shirts – we have many exciting designs in the pipeline. We would like to offer everyone a special 20% OFF coupon for a future order – see your email or the letter we'll enclose with the replacement shirt for the coupon code.
Cheers,
Jonathan & Jackie
Anglotees LLC
P.S. If you wish to return the shirt, you can send it to:
Anglotees LLC
206 Stanley St
Valparaiso, IN 46383