Good news everyone, Anglotees can now take your credit card directly on the checkout page using the service Stripe.
When we started Anglotees, we had two options for payments: Paypal and Amazon Payments. We've generally been very happy with both, in fact we still prefer people pay with Paypal as their first option.
Amazon Payments is another story. Amazon is phasing out Amazon Payments and forcing us all to move to a new service. While I plan to move to it, the transition is more involved than just updating some settings.
We've also been wanting a way for people to enter their credit card info directly into the cart at checkout – as it makes the checkout process frictionless. People are more likely to finish their order if everything happens on one page instead of being taken to a third party to login and pay.
So, from today you can enter your credit card information directly on Anglotees when you checkout. We're using the service called Stripe which is a popular and secure way for small merchants to take credit cards without the hassle of a merchant account.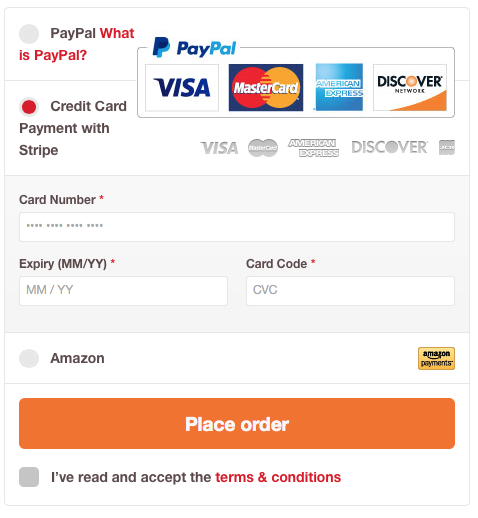 A Important Message About Security
We take the security of our customers' information very seriously. Anglotees is protected by SSL so that all transactions are secure. While we will now be taking credit cards directly on our site, WE DO NOT EVER COME INTO CONTACT WITH YOUR CREDIT CARD INFORMATION.
When you select Stripe as your payment option and enter it, it is sent directly to Stripe for processing using a secure SSL connection. They verify the payment and then communicate the successful transaction back to us. We DO NOT store your credit card information. However, you can select the option for Stripe to store the information on their secure servers to make checkout in the future quicker.